Christmas Star Album
Made by Kathryn Fertyk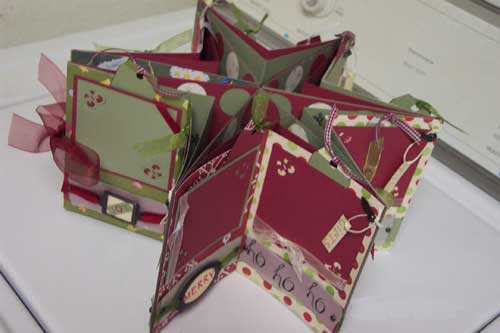 Here are some pictures of my Christmas star album I made for my MOPS group's holiday auction. Hopefully this all works, I guess we'll find out. I guess this is the time of year that people would most likely be interested in a Christmas themed album...
I was really happy with the results of the Christmas colors together. I did decorate each layer of the star before gluing together as it was much easier that way.
Scrapbook products and techniques used
I used cardstock Stampin Up (mellow moss), and some "cranberry" cardstock from the local scrapbooking store.

I used Hodgepodge Hardware from Stampin Up, and organza and grosgrain ribbons

I tore white vellum and inked it around the edges with Mellow Moss ink from Stampin Up.

I used an EK Success scroll corner punch to make slits in the photo frames and glued around all the edges except the top to make a pocket for my tags.

I embossed silver stars on the middle layer and cut out alternating colored circles along w/a print for the innermost layer to add visual interest.
Kathryn Fertyk
Star Album Instructions
You can use this tutorial to construct your own Christmas Star Album

Holiday Memories

GOODIES! Love the patterned paper used for this album.

FUN!

HO HO HO! Tags are tucked in behind the photo mats either at the top or along the side.

WONDER!

DELIGHT! lots of photo anchors and ribbon used throughout this creative album

A great shot of the entire album opened and tied with the ribbon ties. Notice the funky patterned paper on the back layer of pages. Fantastic!