Cat Scrapbooking - Trish's Meow Mini Album
Cat Scrapbooking with toilet paper rolls and patterned papers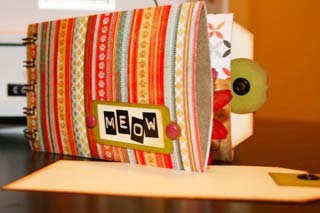 Meow Toilet Paper Roll Mini Album
Ever since I had seen the toilet paper tube mini albums on the Internet, I have been wanting to make one. Therefore, I created a mini album out of recycled toilet paper tubes to showcase our cats, Daxter Bailey Cooper and Mattie Louise. Since I'm new at making mini book and albums, I'm pretty please with how it turned out!
To create my mini album, it was very simple.
First, I took my empty toilet paper tubes, and folded them in half. I cut off about 1/8" of an inch on each tube to "finish" the edges.

I then cut the paper to size, and glued on using my Aleene's Clear Gel Tacky Glue.

Since I enjoy the "vintage" look, while putting my album together, I inked the edges using Tim Holtz's Distress Ink. I also created a little pocket for an additional mini photo using my Cricut.

I used my Cricut to also create the tags and tabs to place into the pockets of the mini album. My favorite touch is the quarter-circle pocket I created for a the small tag book. To make the mini tag book I just cut some tags with my Cricut, and bound it with a brad.

The embellishments I used are flowers, ribbon, stickers, buttons, twine, brads and rubons.

I finished off my mini album by binding it using my Zutter "Bind-it-All."
Pictures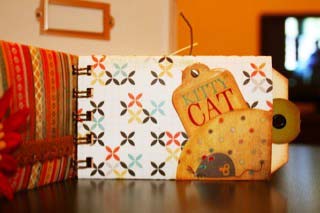 mouse and kitty cat embellishments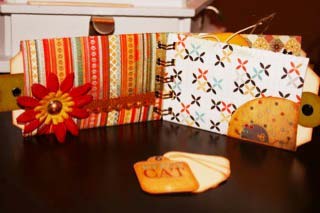 Inner pages embellished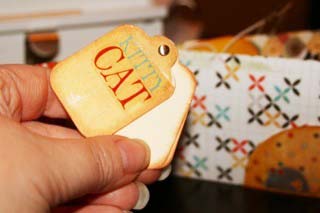 Mini tag book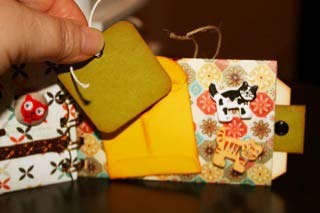 Tags and pocket envelopes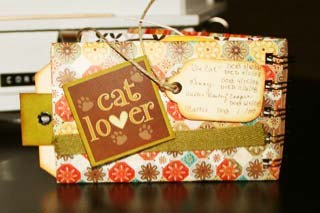 Back cover of scrapbook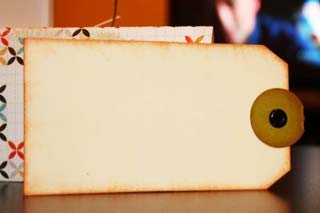 Tags for journaling and photos
Made by Trisha Kimble
Fort Worth, Texas
See also
More toilet tissue tube card holder and scrapbook ideas
Toilet roll mini album tutorial
Cat abc scrapbooking
Scrapbooking cat quotes