Birthday Scrapbooking Idea for a mini
"Make a mini album with this fab birthday scrapbooking idea."
Happy Birthday Stephi
This is a Birthday star book. One of many albums I have made for my beautiful granddaughter, she is 14 months old. It has been well used and touched by Stephi. I made the album of her 1-year-old birthday. I carry it in my handbag, whenever I meet Stephi, she goes straight for the handbag and rummages around for her album. These albums are just the right size for her little hands. There are photos of her in her gorgeous party dress with flowers, she looks so pretty. Her mum made a lovely mushroom birthday cake. There is a lovely family photo, also photos of her favourite toy, a big rubber ducky (present from her grandma of course!!) with coloured spots all over it, no idea why but she calls it 'KA', I have cut out pictures of 'KA' and pasted them on the folded pages of the album. There is also a photo of her with clothing that grandma has knitted. She looks gorgeous in jumper with a two-pointed hat. She is such a blessing to our family, we love her dearly.
Kumudini Fernando
Wellington, New Zealand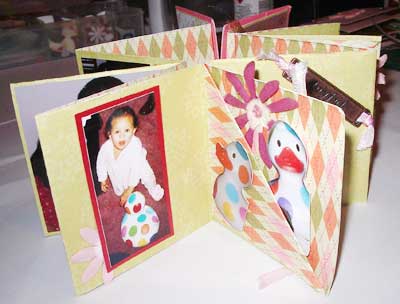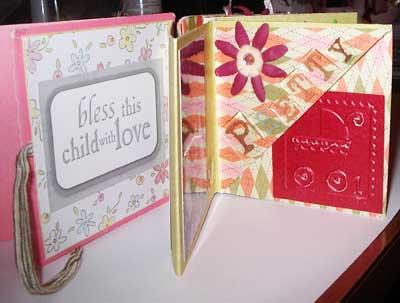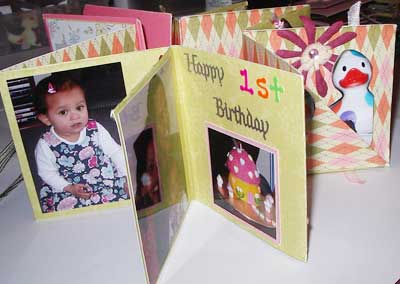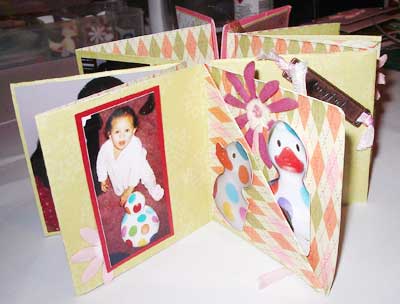 Thank you for sharing Stephi's little birthday mini book. If you would like to submit a birthday mini book to the gallery then use the submit album form. All submissions become eligible to enter the next mini contest.
Return from Kumudini's birthday scrapbooking idea to the gallery