Baby Memory Book of Firsts
A wonderful baby memory book keepsake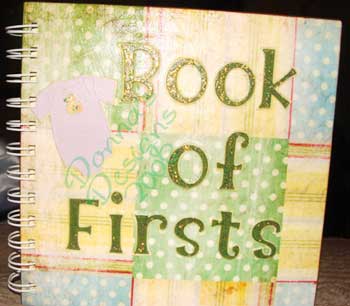 Mini Album Title: Book of Firsts
This little album was created for my niece who is expecting her first baby after years of miscarriages. I wanted to create a little book of firsts to help her remember all of the wonderful things she and her little boy would share during their first year together. Making this book for her was a bittersweet journey for me. During the process, I was able to relive my first years with my own children, and was sorry I didn't have a book like this for them.

The Album itself is 6x6.
Scrapbooking products used
I used Daisy D's Lullaby paper, Jolee's stickers, New Arrivals Cricut Cartridge, Doodlecharms Cricut Cartridge, various stamps, ribbons, buttons and charmes.
To create the album
I cut a 12x12 sheet of cardstock in half (12x6), then scored the 12x6 in half again, so once folded I was left with a 6x6 square.
Hot tip #1: I took a velum, no tear, mailing envelope and cut a strip about 5.5x 2 inches ran that strip through my xyron machine and adhered the strip on the fold line to add some stability to the scored area.
Next, created each page to represent a first in a baby's life,
Hot Tip #2: I created pockets on some of the pages so the mom can tuck extra pictures, or other memorabilia inside.
The list of firsts I used was: First day home, 1st photo, 1st bath, 1st feeding, 1st diaper change, 1st outing/vacation, 1st tooth, 1st Halloween, Easter, Thanksgiving, Christmas, 1st tooth, 1st smile, 1st haircut and 1st birthday. The inside front cover contains a cute little poem and the inside back cover has the baby's name and a velum envelope for the baby's first lock of hair.
Hot Tip#3: I put multiple layers of modge podge on both sides of the front and back covers as a sealer against moisture, sticky fingers and wear and time over time.
I really enjoyed making this mini scrapbook for my niece and I really believe she will enjoy putting the finishing photos and journaling over the course of the next year and then be able to sit back and enjoy her walk down memory lane for many years to come.
Donna Lanclos
City: Lafayette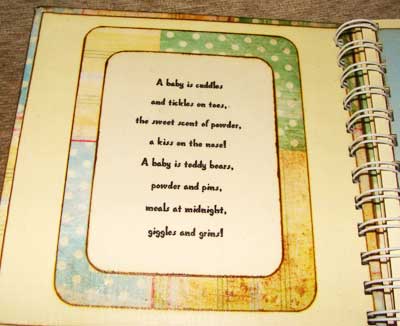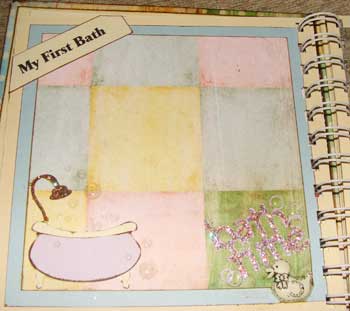 First Bath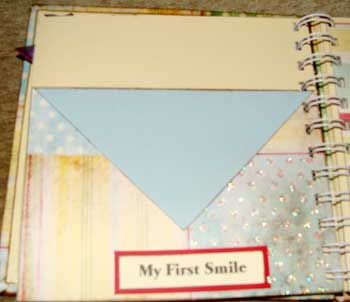 First Smile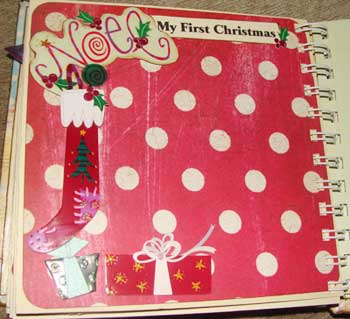 First Christmas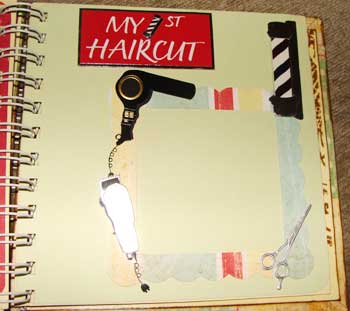 First Haircut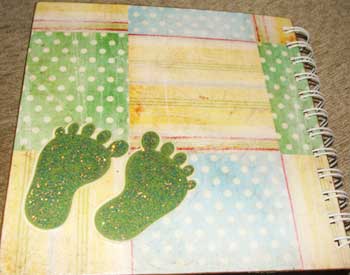 Back cover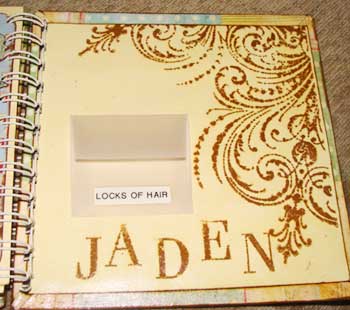 A lock of hair from the 'first haircut'
Thanks Donna for sharing your creativity with us. If you would like to share your baby mini book creation then send it to us via the submit mini book form
Back to the Mini Scrapbook Albums Competiton Gallery