Wedding Anniversary Scrapbook
Anniversary Scrapbook CD mini-album by Becki
The album was a gift for my DH for our anniversary.

I used those free disks you can get to put things on your computer, like internet and so forth.

I covered each one with cardstock on both sides, then drilled a hole near the edge of each one to run a book binder ring thru to connect them all.


There is a pocket on each one-made from more cardstock and torn along the opened edge, one each side-and in the pockets are tags. The tags are different sizes and have things I love about him or quotes on them. There is ribbon at the end of each tag.

I sanded along the edges of the covered disks to smooth out any rough cut edges of paper and make it look more rustic.

I also inked along the edges of the tags.

There are stickers, rub-ons and other embellishments on the 'pages' of the mini-album and the cardstocks are printed and solids.
The tags have things I love...I made it in 2005, so I had to actually look at it to remember all the little details! LOL Another thing is that even though it doesn't have pictures, doesn't mean it isn't a mini album!
This was a fun and very inexpensive gift, that can be cherished forever! xo~B

Becki
Beaverton, OR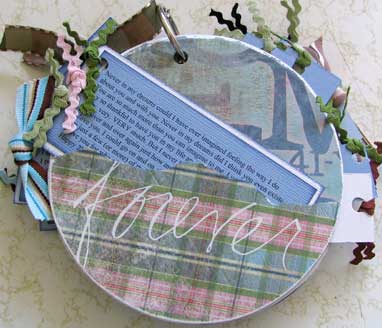 Anniversary mini album front cover

Mini book inner pages

The end... for now
Thanks Becki for this great CD mini album. If you would like to share your anniversary album then you can submit it here.
Back to the Mini Scrapbook Albums Competiton Gallery