Altered Memory Box
Altered photo boxes for your coffee table are a great gift idea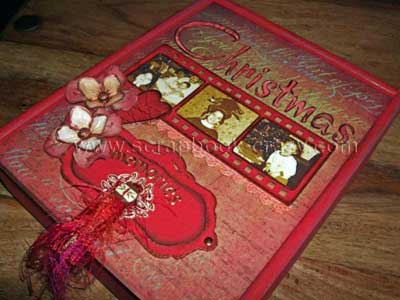 Altered Memory Box
I bought this old pencil box at a boot sale, I think it was 50pence (me and my thrifty finds...) lol :-) I told my hubby I would alter it and he said it was ghastly and anyway, it'd be too much trouble...
Pah! What do men know? :-)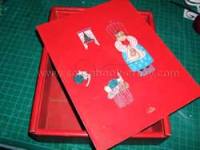 First thing was to sand it back a bit and then repaint in acrylic. I chose a nicer red - Christmas Red by Anita's. Then came a lot of inking - I love the grubby look. It's lined with inked spotty paper, and the lid covered with a beautiful scripty heavy paper - sorry, no idea what, but ancient.
The magistical memories filmstrip was painted, as was the bookplate and folk heart, then inked again, and once dry I outlined everything with a Krylon Bronze leafing pen. Fiddly, but looks beautiful so worth it.
I dyed some silk flowers, and outlined them with bronze pen, and decorated the paper ones with bronze stickles and pen also. The heart was wrapped in crinkly copper wire, and I altered some pewter brads with krylon pen. Cream lace was coloured with 7 gypsies colour wash. Rub ons, deco brad, ribbon and fibre make up the lid pull, and finally everything was drybrushed with copper gold acrylic.
The hardest part was finding and choosing suitable old pics to shrink and sepia tone - I have too many!
Inspired by the idea of making a memory box for the coffee table I plan to fill this with old photo's of Christmas past, Santa notes and other memorabilia for the family to browse.
Thanks for looking - I hope you like my project!
jacqueline walker
Dunstable, UK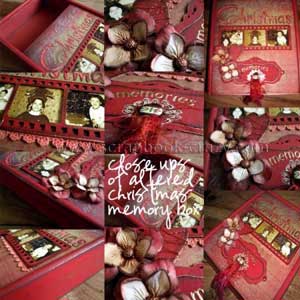 Magistical Memories Photo Strip
Related Mini Album Topics
Altered Christmas Scrapbooks and handmade gifts
More Xmas Scrapbooking inspiration and examples
Christmas Mini Albums
Tutorials for making Christmas mini books and gift ideas
Return from Altered Memory Box to HOME