Altered Keepsake Box Gift for Christmas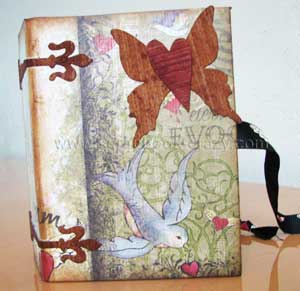 Altered Keepsake Box
Hi all , this is my favorite altered memory keepsake box , I made this
as a Christmas gift for my mother in law.
I first started by assembling the box part, I measured the parts , then glued them together with bookbinding glue. then I painted the box with distress crackle paint" peeled Paint". while this dried , I measured and cut the paper for my cover, I then applied the pieces of book board for the front and back cover to the paper with bookbinding glue. mitered my corners and folded the edges over and glued them down. after this, I glued the ribbon to the inside stretching from the front to the back and hanging over each end about four inches.I then applied the inside cover paper over the ribbon. I then glued the box to the back
cover. then I glued a piece of paper measured sit inside the box. After all assembling was completed I used a sponge to apply vintage photo distress ink on all the edges and corners giving it an antiqued appearance.
The sides and cover are made with bookboard and covered with paper from the "always" collection by Marah Johnson. the inside cover is paper from club scrap. the "box" part is painted with distress crackle paint by ranger.
She loved this gift and it sits on her dresser in her bedroom. I forgot to mention about the grungeboard pieces i stained with walnut ink and glued to the front and sides.
Hand made by Kristie Taylor
Lancaster PA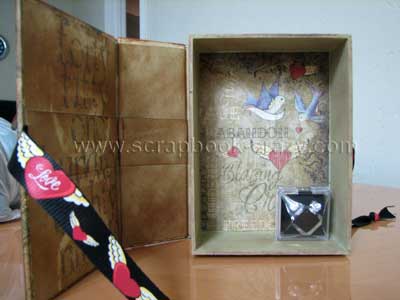 Inside of the keepsake box

See more Altered Christmas Scrapbooks and Mini Art
Return from Altered Keepsake Box to HOME