Altered Jewelry Vanity
Alter trinket boxes for your children.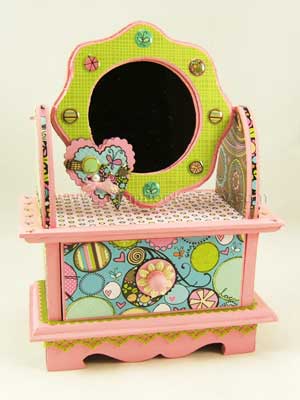 Altered Jewelry Vanity
I made this cute little jewelry vanity for my 5 year old daughter as a gift. She needs something to put her princess necklaces and bracelets in and I thought this would be perfect! I altered it to coordinate with her Princess bedroom!

I used several pieces of patterned scrapbook paper, a border punch, and scrapbooking embellishments to make this creative piece. The colors are bright and fun and there is plenty of interest involved here. Once she has placed her Princess jewels on, she can admire herself in the mirror!
Lisa Falduto
Plover, WI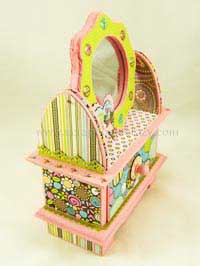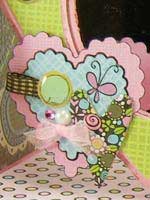 Related Mini Album Topics
Altered Christmas Scrapbooks and handmade gifts
More Xmas Scrapbooking inspiration and examples
Christmas Mini Albums
Tutorials for making Christmas mini books and gift ideas
Return from Altered Jewelry Vanity to HOME