How to Make Altered Jar Gifts
Fill your jar gifts with yummy treats..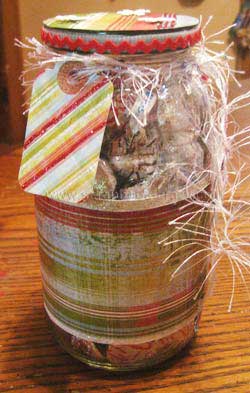 Altered Jar Gifts
I decided to alter jars as "teacher gifts" this Christmas.
Supplies:
Basic Grey Blitzen patterned paper and tags
Assorted ribbon
Stickles
Zip Dry Glue
Instructions:
I first put the jars in the dish washer to make sure they were spotless and deodorized
I then boiled them to get the labels off (this works so much better then glue remover!)
I cut the patterned scrapbook papers to the sizes I liked and glued the pp together with Zip Dry glue.
I then decorated with Stickles. After drying, I glued the paper to the jar with Zip Dry.
Next, I tied ribbon around the neck of the bottle with the decorated tag. On the back of the tag, I wrote to the teacher from my daughter with the year.
I also put paper on the lid and glued ribbon around the side of the lid with glue dots. I also used snowflake brads to the top of the jar.
Finally, I filled each jar with Hershey Kisses for a yummy treat.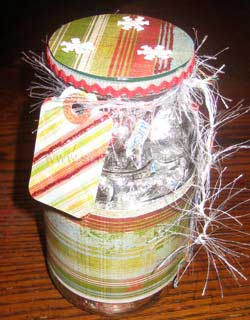 Made By Kimmarie Baker
Wood-Ridge, NJ
Related Mini Album Topics
Altered Christmas Scrapbooks and handmade gifts
More Xmas Scrapbooking inspiration and examples
Christmas Mini Albums
Tutorials for making Christmas mini books and gift ideas
Return from Altered Jar Gifts to HOME