Altered Canvas Clock
I've been thinking about making an altered canvas clock a lot lately (actually I've been thinking about them since forever ago) So in a bold move to get something done about it I finally got on to Ebay and bought some clock mechanism kits which came complete with the brains and some really funky hands plus a few extra bits and pieces. I'm not sure what the going rate for these sets are here in Aussie but I reckon I got them at a reasonable price - I bought 10 sets at $4AUD each plus $10 postage which calculates out to be $5 per kit.
So here I am with the potential to make 10 canvas clocks but no canvas frames. A quick trip to the craft shop saw me picking up a 10"x12" canvas frame for $5.99AUD plus a few extras for good luck, lol :). I could have bought a cheaper one from a two dollar shop but I could only find the skinny ones with very little depth and I prefer the look of the thicker framed canvas.
Ok, so this is my first attempt, fairly simple and basic. No extra pretties or adornments. The paper I used I have had forever, it's so pretty. I wanted my clock to be all about the paper - that and I just wanted to get one made asap, lol. (ps the word whanau means family)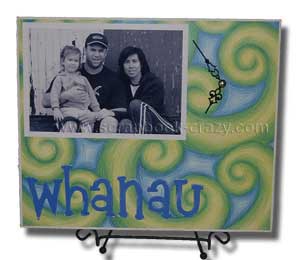 Supplies
Canvas frame

Clock mechanism kit - should consist of the hands, the movement(the brains lol), hanger, barrell nut and possibly a washer

double sided adhesive foam to secure the clock movement to the canvas backing - magic mount or similar

Acrylic paint and brushes

Paper trimmer, ruler, craft knife, hole punch tool, paper piercing tool, adhesive

Patterned paper

Chipboard letters + any other embellishments you might want to use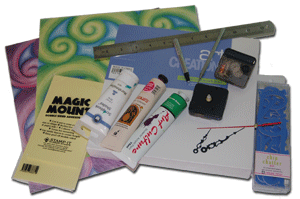 Altered Canvas Clock Instructions
Paint your canvas face and sides if you want a background colour to be other than the colour of the canvas itself. Set it aside to dry. I wanted a white background so I left it as it is.


Get busy and create a beautiful layout with your photo, patterned paper, embellishments and clock hands. Do not assemble your clock pieces yet - this will be the last thing we do. For my super basic clock I trimmed my patterned cardstock to fit the canvas frame. The canvas I used is 12"x10" so I trimmed my paper to be 11¾" x 9¾" so that I would have a small white border around it.


When you have your layout complete attach it to the canvas. You can either cover the back of your layout with an even coat of adhesive like modge podge with a foam brush or if your layout is fairly light you can use good double sided tape.


Mark the spot where the shaft of the clock will protrude and use a paper piercer or craft knife to poke a hole right through the canvas. Turn the canvas over and carefully punch a hole through the canvas the same size as the shaft so it is a snug fit.


Push the clock shaft through the hole from the back. Secure the clock mechanism firmly to the back of the canvas so that it doesn't hang. If you have magic mount or some thing similar you can cut one or two 2"x2" pieces and stick them together back to back. Then cut a hole through the middle for the clock shaft. Stick the magic mount to the back of the clock mechanism then carefully adhere it to the back of the canvas. Ensure the shaft protrudes enough to attach the hands. If you do this then you wont need to use the barrell nut on the front of the canvas to secure it.


Flip the canvas over and assemble the hands as per the supplied directions. Set the time, pop in a battery and you're all done. Easy peasy.
Cool tips and hints.
Clock mechanisms come in different shaft lengths usually ranging from around 3mm to 25mm. Ensure you select the correct length shaft for your clock so that the hands will clear the dial. I used a 5mm shaft kit.

You can rip apart an old clock for the movement and hands, You might even find funky old clocks at garage sales or second hand stores. Bargain!!

Spray paint the hands!!

Give your canvas a metal sheet backing then you can attach the photos with adhesive magnet strips. You can change the photo when ever you like.

If you have bought a clock movement kit without instructions (like i did) It is kinda straight forward how to assemble it but if you're not sure then check the diagram on this link. There is also some expert advice available.

Use smaller canvas frames to make a stand up desk clock for the home or work office desk

Use a cool time quote or phrase
Let me know if you have seen a great project to share
Clock Dials
What to use for a clock dial. Anything round and flattish would be excellent to use for a dial. Of course you don't have to limit yourself to a round dial, Any shape will do so long as it looks good right? Let me know if you have any cool ideas to share.
Large flowers - Heidi Swapp florals are excellent

I'm dying to get my hands on some Heidi Swapp Bling circle frames. how cool would they look!

Cut out of round card stock

Use computer software like photoshop to enhance a photo and print the numbers directly on to it
Clock Numeral ideas
There are tons of different embellishments you can use for clock numerals. You could always buy a set of clock numerals from a hobby shop or dollar store but of course there's no fun in that. A few ideas....

stickers

buttons

brads

bling brads

shells

circle punchouts

prima flowers
chipboard shapes

letters??

small photos

sequins

rhinestones

charms
Last thought...
I saw the coolest clock on holiday in a resort in Rarotonga. It had the numbers all mixed up with a phrase at the bottom which simply said "Who Cares" I am totally going to make one like it and hang it in my scrap room...
Find some inspiration...
Here are a few links to some of my favourite canvas clocks on the web
Click here to return from altered canvas clock to check out some other cool projects....
Let me know if you have seen a great project to share