Record Album Scrapbook
An old vinyl album scrapbook
Our trip to Indy
This mini album is to remember an overnight trip my family took to Indianapolis. I used old 45 records from the thrift store as the base of my book. The cardstock for the pages was cut using the record as a template and a Coluzzle knife. To unify the album, I also used the circle Coluzzle template for the pictures and accents. The title on the cover is matboard cut using Cuttlebug and covered with paper or pictures from the project. There are numerous accents and embellishments. The ribbons on the last few pages are actually threaded through the records - I used the Crop-a-dile to punch holes in the records themselves. All the records are strung on a beaded chain long enough to allow easy turning of the "pages."
Susan Matteson
Goshen, IN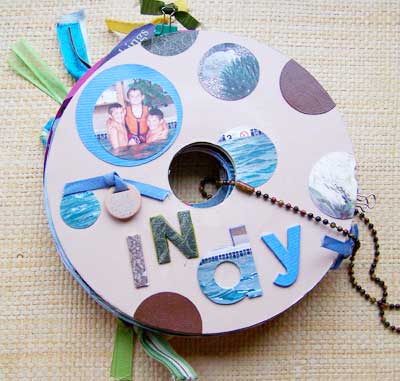 The front cover of the record album mini book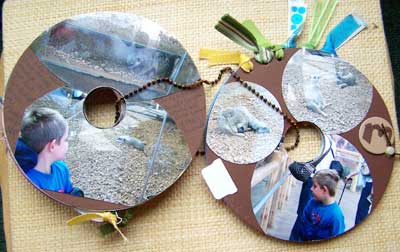 Pages covered with circle cropped photos to fit in with the round album theme.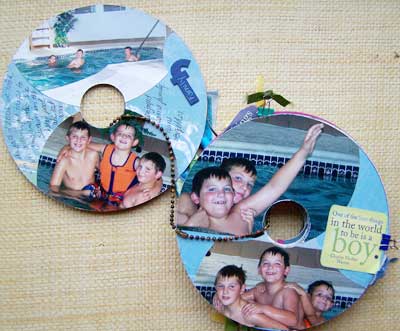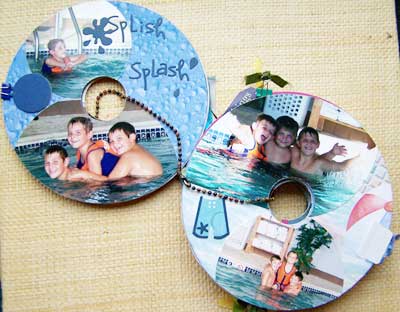 The beaded chain is threaded through the holes at the centre of the vinyls to act as some loose binding.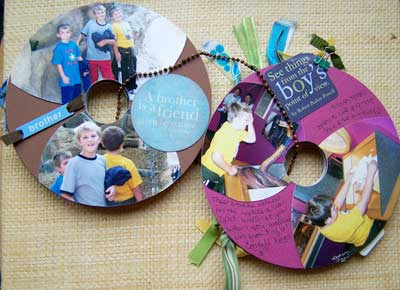 Thank you Susan for sharing your mini album with us. What a great idea to use old record albums to make your mini book. We will no doubt keep an eye out for some bargain priced vinyls.
If you have a mini album or mini book idea that you would like to submit to the Scrapbook Crazy gallery then head over to the submission form or send us an email. As an added bonus your mini will be automagically entered into the next mini album competition.
Back to the Mini Scrapbook Albums Competiton Gallery