Greetings,
Welcome to another edition of Mini Albums to Go where bring you up to speed with what's going on at Scrapbook-Crazy.com. We have fresh new mini tutorials and a new giveaway.
If this newsletter is not displaying in all its colorful glory, you can view it on the web at:
http://www.scrapbook-crazy.com/Mini_Albums_To_Go-Issue11.html
---
Interview with a Cropmom and free giveaway

Today we are chatting with who is the owner of Cropmom Kathryn Balint. I recently had the opportunity to try their online service to see if I could somehow create a mini scrapbook using their tools and I am happy to say I was very pleased with the results.
To find out more about Cropmom, and how you can win Cropmom Freebies Read the full Interview here.
---
My Cropmom Mini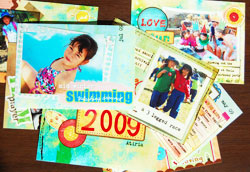 So I made my own mini album with cropmom by creating my layouts and sticking some 5x7 printouts to recycled matt board. You can check out my cropmom mini and tutorial here
Thrifty Mini Album Tip
Stock up on free mini album pages and covers by heading over to your local picture framing store and ask them if they have any matt board off cuts that they are going to throwing out. Matt board is perfect for mini albums. It is acid and lignin free, nice and thick and comes in heaps of different colors. If they won't give them to you for free then maybe they will sell them to you at a nominal price. My last visit to the framers scored me 40 free pieces of 10"x8" red, black and white board. I am set for life...
---
Latest Tutorials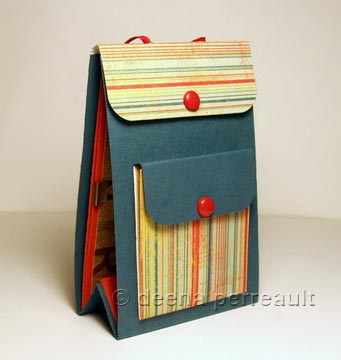 Mini Backpack Album
A creative paper backpack mini scrapbook tutorial.
Summer Vacation Mini Album
Thanks Maria for sharing your Summer Vacation Mini Album tutorial with us. Check it out and make your own with the provided page templates.
We'd love to feature your own Mini album tutorial email us at info@scrapbook-crazy.com to submit yours.
---
Cropmom Giveaway

Kathryn is generously giving away 2 packs of 10 Cropmom credits to 2 of our lucky readers. For a chance to win, simply pop over to this scrapbook-crazy blog post and tell us what the most popular Cropmom scrapbook kit is. Competition ends midnight, 27 August 2009.
Our two winners will be drawn and announced the following week.
---
Pick of the Bunch
This months readers mini comes was made by Sharon. It is a fun summer water park mini.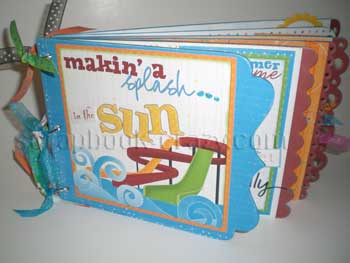 ---
Stuff you oughta know
Feel free to forward this newsletter to a friend or egroup.
They will be glad you did!
If this newsletter was referred to you by a friend then make sure you subscribe to mini albums to go to ensure you are the first to know about our competitions and updates.
If you have any comments or questions you can send me a message via the contact me page or you can simply leave a quick comment on my BLOG
© 2007-2008 www.Scrapbook.Crazy.com. All rights reserved.