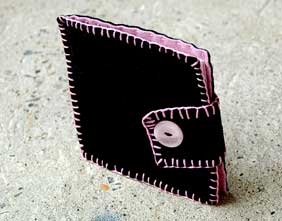 This month we will chat with another mini album maker Shelley who has volunteered to share with us her tips on how she made this groovy felt mini album from just two pieces of felt, a length of embroidery floss and a quick online tutorial on blanket stitching. Shelley's creation is more of a pocket calendar but I will definitely be scrap lifting her design idea to make my own little brag books and mini albums.
What inspired you to make this album?
I had seen some felt book shrines made from felt, ribbon and buttons. I love the look achieved by a simple blanket stitch and thought that I could easily adapt the design to a mini album. There were also other mini albums that I had previously seen that were made with felt and material. I thought I could use the felt for the front cover of my pocket calendar and attach an accordion insert to add the months.
Have you ever used felt or sewing on a craft project before?
Never! This would have to be the first time I have ever picked up a needle and thread. I was anxious when I first set out to make this album. I ironed the felt pieces 10 or more times each because I was too nervous to actually start the stitching process.
What products did you use to make this album?
Two felt squares, one pink and one black that I bought from hobby lobby for 50c each and some pink embroidery floss. For the closure I used two velcro spots and a button that I had in my bits and baubles supplies. The accordion album itself was made following the scrapbook-crazy one sheet accordion made from a sheet of 12" x 12" cardstock.
What is the best adhesive to use with felt?
I used Beacons felt glue. It is excellent for sticking ribbon as well. A scrapping buddy recommended fabri-tac which is also made by Beacon. I used the felt glue to stick the accordion insert to the inside of the felt covers.
Where did you learn to blanket stitch?
I used the tutorial that you linked to from your blog, and there are also lots of tutorials on the net. It took me several tries but I mastered it in the end. I still get a little bit confused when starting and finishing but I make it work somehow.
On a scale of one to ten, how easy was this album to make.
9. Learning how to blanket stitch was really easy. It takes a little practice but the end result is awesome. If you make a mistake it's OK since felt is so cheap, it will not be a difficult task to start over.
How long did it take you to complete?
In total, I would make a guess at around two-three hours - including the time that it took to learn how to blanket stitch
ALBUM TEMPLATE
This was a very simple design for me to try. It was really very easy to make I even surprised myself.
note: Find the tutorial for Shelleys Felt mini album here
OTHER COMMENTS
Other methods and techniques that I have found useful to attach embellishments to felt include stitching, staples, brads and eyelets, buttons, binder clips, staples
Thanks so much for sharing your calendar with us Shelley.
HANDY LINKS
blanket stitch - tutorial by future girl, this is a great tutorial that is easy to follow. It covers a couple of extra points like what to do when you run out of thread.
embroider on felt - tutorial by future girl